CUSTOMER COMMENTS


"Dear Jerry,
Happy to tell you that the Drone Flute arrived and I played as if we are old friends, just wonderful!! I love the sound!!!
Thank you very much, and indeed it is a very easy and comfortable flute to play.
Loving Light Blessings"

Sarah-Maria C. Gijben
Internet Customer
The Netherlands

Drone Flute
Medium Size, Key of C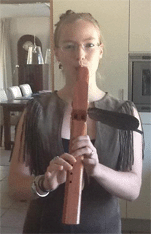 Laurien Zurhake
Internet Customer
The Netherlands

"Hi Jerry and Lisa,
Thank you SO much for my Drone Flute! It arrived this week and is even more beautiful than I had imagined. The tone is amazing and it really was a case of love at first sight! I am enjoying learning from your book too! I have found it invaluable for getting to know my flute - and I love that there are songs I recognize so I can get used to reading and playing and then transfer that to the other beautiful songs you've included."

~~ Ruth Ingham
Internet Customer
Australia

Drone Flute
Large Size, Key of G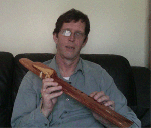 David Kerrigan
Internet Customer
United Kingdom

Drone Flute
Medium Size, Key of B


"Jerry & Lisa,
Thanks for crafting such a beautiful flute for me. Not only was it very reasonably priced and delivered well ahead of schedule, it's just as I'd conceived it, and it is a work of art! It'll certainly be displayed proudly and, someday, I may even be able to play it as well as it deserves to be played.
Just as importantly, after all our time on the phone, Jerry, I feel like I've acquired a friend as well as a flute.
Thanks again"

~Bruce Schaffer
Internet Customer
U.S.A.
David Kerrigan
Internet Customer
United Kingdom



"Everybody is a genius. But if you judge a fish by its ability to climb a tree, it will live its whole life believing that it is stupid."
~ Albert Einstein

| | |
| --- | --- |
| | LISTEN TO THE FLUTES |
| | Click on the blue letter to hear that flute. |
Large Flutes
26"-20"
Medium Flutes
19"-17"
Small Flutes
16"-14"

Dial Up Internet is very slow at downloading files.
Be Patient ... Sound Files Are Worth The Wait.
Which Key Of Flute Touches You?
The natural rich warm sound that comes only from an instrument made from wood, touches the soul of all those who hear it. It is our experience that each individual person has a specific key that touches them uniquely. Discovering which key calms you, is easy on our website. We have lots of flutes for you to hear.
Concert Quality ~ A440 Tuned
Your flute will be tuned using an electronic tuner to ensure that it has concert quality pitch. This will enable you to play along with other instruments.
Flute Sound Files ~ Not Electronically Altered
Our flute sound files DO NOT have any effects added to them. Our flutes sound exactly like this naturally (Clear, Crisp, Loud, Non-breathy, & No air hiss). Your flute will sound this way for you when you play it at home. Your flute will produce a rich, clean quality sound and have tremendous volume, without the use of a microphone.

LISTEN TO MORE DRONE FLUTES

| | | | | |
| --- | --- | --- | --- | --- |
| | | Key of F | | Eastern Cedar - Large Size |
| | | Key of G | | Zebra Wood - Large Size |
| | | Key of A | | Maple - Medium Size |
| | | Key of A | | Red Heart - Medium Size |
| | | Key of Bb | | Bubinga - Medium Size |
| | | Key of C | | Sassafras - Medium Size |
| | |
| --- | --- |
| | SIZE DIFFERENCE AND FINGER STRETCH |
| | Width and length of the flute varies according to the key of the flute. We suggest that beginner players order a medium or small size drone flute. The larger the flute, the farther the stretch between finger holes. The larger the flute, the farther you have to reach across the flute to play. |
| | |
| | |
| | |
| | Need help determining the size of flute that is a perfect fit for you? Call 1-417-535-6032 or email us. We'd love to hear from you. |

YouTube Customer Video

This is Stephanie Keane. She is playing her new Fretwell Flute Drone. Stephanie has a rather large collection of our flutes. Her spirit is a happy one and you can certainly hear it when she plays.

The flute is made from Hickory and has a Bubinga block. It is tuned to the key of Bb. It is a medium size flute.
CHOOSE YOUR FAVORITE WOOD
Flute Tone and Wood Choice

The tone of your flute is determined in part by the type of wood used. The softer woods produce a warmer tone. The harder woods produce a brighter tone. Tone is not volume. Tone is the texture of the sound.
The Joy of Wood Shopping
" I have a blast when we go wood shopping. I'm like a kid in a candy store. Soooooo... many beautifully grained pieces of wood to choose from. We always come away with much more wood that we went to buy. Some pieces of wood, I "just can't resist". They just beg to be made into a flute." I just "love" to go wood shopping." ~~ Lisa Fretwell

Most of our hardwoods and exotics we purchase from a speciality store about an hour away from our home. We hand pick each piece. We look for unique and beautiful grain patterns as well as exceptional color. We purchase our Eastern Cedar wood from a local young man. He cuts and mills the cedar from here in the Ozarks. Some of our rare and exotic woods, we purchase from other sources around the country. Koa and Curly Koa we purchase directly from Hawaii.
Availability of Unique Woods
Most wood will make a wonderful flute. Email or call us (417-535-6032) about the availability of woods not shown on our website such as: Koa, Curly Koa, Honey Mesquite, Black Mesquite, Quina, Wenge, Spanish Cedar, Redwood, Sapele, Quilted Sapele, Rose woods, & Quatersawn woods.

Pieces of Wood Special to You
If you have a piece of wood that's special to you, send it to us and we will make your flute from that piece.

Some of our customers go to their local wood store and choose their own piece of wood. Wood grain and color are unique to each board that is cut. Each piece of wood has it's own unique spirit. When you can see and touch the piece of wood, the spirit of the wood can talk to you.
Combination Flutes

We can add inlay, endcaps, or rings to your flute.


You choose your wood combination.



Email or call us (417-535-6032) to discuss your specialty flute and pricing.

Three Commonly Asked Questions



Q: What do you use to seal the wood?
A: Over a period of several days, we apply several thin coats of non-toxic, humanly edible shellac to the outside of your flute. (It's the same shellac that is used in the food industry when making licorice candy.) After the shellac has set completely. We give your flute a mineral oil bath and we place it in the drying rack for a couple of days to dry. Clear shellac lets the natural grain pattern and color of the wood stand out. Your flute will have a soft shine.
Q: What woods are the softest and produce the most warm tone?
A: Eastern Cedar, Western Cedar, and Sassafras.

Q: What woods are the hardest and produce the most bright tone?
A: Purple Heart, Osage Orange, and Pink Ivory.



.Need to transport or store your flute?
.We can make you a Leather Fringed Bag. .


.